iLOT Bet proves the fact that the way of progress is constantly uphill and the individuals who are constantly prepared to take on challenges and have the bravery to predict and win, just them are granted these accomplishments. iLOT Bet celebrated such individuals, rewarding them with a brand-new car, iPhones, and cash prizes. The prize presentations for Qatar 2022 predict and win promotion held at the Sheraton Hotel and Suites, Ikeja on Wednesday, 7th of December 2022 was a top notch event.
Umar Ibrahim who emerged the winner of the grand prize of a Toyota Corolla 2021 model worth 31.5 Million Naira was at this event. He flew in from Abuja to make it for the event. iLOT officials and other dignitaries were present at the event to welcome him and other winners who received the iPhones and other prizes. The dignitaries from the National Lottery Regulatory Commission (NLRC) Mrs. Nkiru Onizulu among others explained that iLOT Bet is indeed a betting brand with reputation to give out a brand new car. "The ability to make known a promotion and finally reward such prize to the potential winner is what make iLOT Bet stands out". Mrs Nkiru Onizulu said at the event.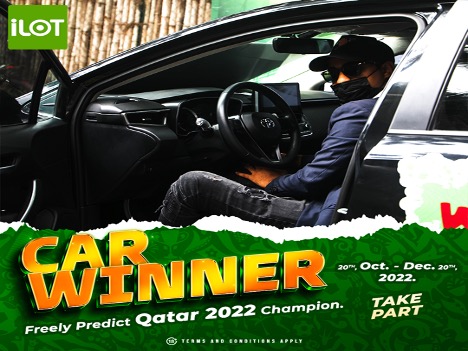 Accomplishment draws out joy, looking back at the progress that leads to the success. You win the race today simply because you trusted you could win and went ahead to make predictions on iLOT Bet platform. There is no one at the event who does not testify to iLOT Bet's successful prize presentation that it met and surpassed existing industry standards. There was a free raffle draw for all guests who were at the event. Randomly, a raffle ticket was picked and the selected ticket, which is among the guests get to receive a Tecno Spark 8P, Oraimo Airpods or Power Bank.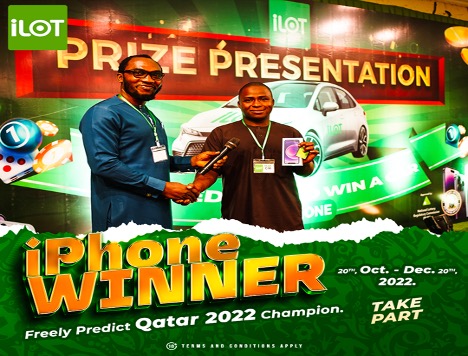 iLOT managing Director, Uma Ntima gave a remarkable address. In his address, he said "iLOT Bet's goal is to promote responsible gambling, provide employment opportunities and improve the economy of Nigeria. Right now, we have branches in Lagos, Abuja, Port Harcourt, Ibadan and Onitsha. By the end of 2023 we hope to be everywhere in Nigeria".
Could there be other betting brands? Yes. Could there be a betting brand like iLOT Bet? Definitely not. Qatar 2022 has been an amazing session. The Knockout Stage happens to be more rewarding as iLOT still keeps active its predict and win promotion for the ongoing Qatar 2022. The second brand new car is still available for bettors with accumulative bet of N20,000 and more. It's true that iLOT knows how to lead the pack on when and how to reward the most loyal and active customers. An impeccable brand with merits, flawless wins, where winners are celebrated. Keep using iLOT Bet platform to win more