Davido, one of the shining stars of Afrobeats music, has expressed genuine worry for a dedicated fan who's set on embarking on an astounding journey from Taraba to Lagos, all for the chance to meet him.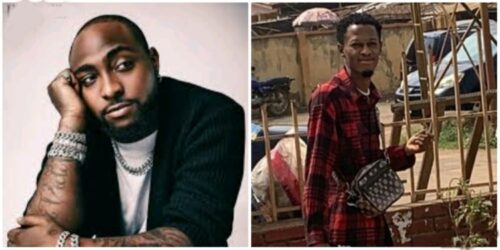 Last Friday, a certain admirer, going by the username Dami4reign, caught everyone's attention by announcing a daring plan to walk a whopping 828 kilometers to be in Davido's presence.
Adding an intriguing twist to the tale, Dami4reign took to social media, stirring up a hearty pot of requests for support and well-wishes, all while hoping for a sprinkle of luck on his audacious expedition.
"My name is Dami, I just started my journey from Taraba to Lagos, which is about 828km, to see @davido
Wish me luck and safe journey guys," the user wrote
Davido, in his response, told Dami that he alone will feel the burden of the arduous walk if he attempts it.
The Singer wrote;
"With leg, nah Your body go tell you,"
The is coming shortly after a staunch supporter declared on Thursday that he's presently pedaling a bicycle from Benue to Lagos with the intention of meeting Davido.
In his response, the musician emphasized that he isn't presently at his residence. Furthermore, he encouraged the enthusiast to reverse course and head back home.
However, the enthusiast persisted in his desire to reach Lagos and encounter Davido, asserting that he's already reached Benin.
Responding once more, Davido reiterated his absence from Lagos. Nonetheless, he requested the cyclist to provide his bank account details.