Bestowing her Instagram feed with a dose of allure, the multi-talented Korra Obidi, currently residing in the US, shared a fresh video capturing her in the company of the Mavin crew, emanating an air of Nigerian spirit and transcontinental charm.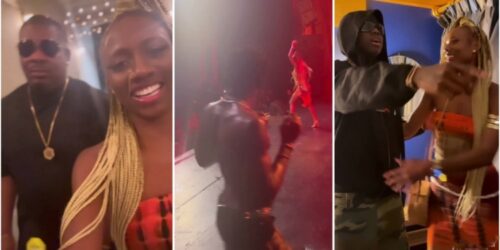 The clip showed a jovial scene where Don Jazzy had the mother of two in stitches with his witty remarks. As they hurried backstage at Rema's Los Angeles concert, her laughter echoed through the air, painting a lively picture of their spirited camaraderie.
Subsequently, Korra took to the stage alongside the 'Calm down' crooner, showcasing a mesmerizing display of twerking and remarkable dance moves as the music star serenaded the crowd with his songs.
Their collaboration added a captivating layer of intrigue to the entire performance, making it a truly enthralling spectacle.
Another exciting segment of the video showcased Korra Obidi seamlessly blending in with Rema's backstage crew, enjoying a relaxed vibe alongside the Singer and the prominent Mavin Boss, Don Jazzy.
In a heartwarming gesture, Rema summoned one of his crew members to capture a snapshot of him and Korra, both sharing a moment of genuine connection amidst mutual respect and enthusiastic cheers.
Adding a dose of humor to the mix, Korra also let us in on the time when Don Jazzy unknowingly became the subject of her camera lens, cracking her up with his funny facial and body expressions.
Captioning the clip, Korra Obidi wrote;
"A night with Rema, Don Jazzy, Mavin crew, always an honour to share the stage with icons"