Canadian rapper Tory Lanez, has been sentenced to ten years in prison on Tuesday for shooting US musician, Megan Thee Stallion on the feet during a drunk altercation.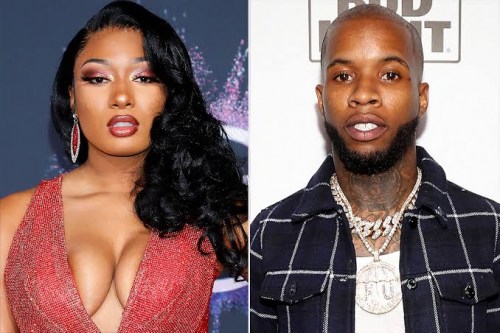 The Los Angeles Judge after learning that Lanez had ordered Megan to "Dance'bitch" in the middle of the road while firing multiple shots at her, read out the punishment.
The punishment followed Lanez's conviction in December for assault with a semi automatic weapon, negligent discharge of a firearm, and transportation of a loaded, unregistered firearm.
According to the prosecutor, Lanez's actions left the "WAP" performer with bodily and psychological scars, and had asked for a 13-year sentence.
Tory Lanez's attorneys on his part, begged for three years in prison or probation, as well as required treatment for alcoholism.
During a drawn-out sentence session that started on Monday, Judge David Herriford claimed to have received more than 70 letters, including from Lanez's celebrity friends.
One came from the singer-songwriter Iggy Azalea, who he claimed asked for a sentence that was "transformational, not life-destroying."
One more was offered by Lanez's young kid.
The judge asserted that although the prosecution had established two aggravating elements—the use of a weapon and a victim who was especially defenseless—it had not established that the offense constituted a particularly high level of viciousness, cruelty, or callousness.
However, he mandated that Lanez, who has been detained since being found guilty, spend ten years in prison.
After he was found to have violated protective orders in Megan Thee Stallion's case by a court in Los Angeles, Canadian rapper Tory Lanez has been taken into police custody.
Lanez, who was detained on Tuesday, April 5, was earlier charged with assault after shooting the female rapper in the foot in 2020.
He has since been prohibited from contacting her or discussing any details of the case with outside parties.