ASAP Rocky is facing a lawsuit by a former collaborator. The 34-year-old American rapper born Rakim Athelaston Mayers has been sued for defamation by former ASAP Mob member ASAP Relli born Terell Ephron), via TMZ.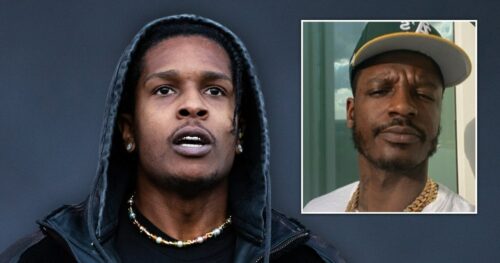 Rocky and his attorney Joe Tacopina were sued by Relli, claiming Tacopina went on a press campaign on behalf of his client following a November 2021 shooting.
Relli had claimed that Rocky had shot him after an altercation in Hollywood, and when Tacopina went to the press to deny any wrongdoing by his client, Relli claims the lawyer defamed him.
Rocky was arrested in connection with the incident back in April 2022 at LAX, where he was getting off a private jet with Rihanna.
Rocky has pled not guilty in his criminal case, which is still pending, but Relli is claiming Tacopina defamed him, at the behest of Rocky.
The death threats and harassment got so bad he has resorted to therapy, claiming the ordeal has affected his sleep schedule and his overall mental health.
Relli is asking for unspecified damages in the lawsuit, though Tacopino is claiming the lawsuit is nothing more than a 'publicity stunt.'
'This is actually nothing more than a publicity stunt which is going to backfire badly,' Tacopino began.
'I more than welcome this lawsuit especially because the resolution of the criminal case has not happened yet,' Tacopino added.
'It will expose the fraud he committed and unfortunately for his lawyers, it will cause them to be responsible for legal fees in this case,' he alleged.
'They don't know the facts of this case or the actions taken by their client. But, I will be more than happy to educate them,' he concluded.
The post ASAP Rocky Sued By former Mob Member for Defamation Over Involvement in 2021 Shooting appeared first on tooXclusive.
source
https://tooxclusive.com/asap-rocky-sued-by-former-mob-member-for-defamation-over-involvement-in-2021-shooting/